Collage a Day (June 2015)
1 June
I don't know why, but for the last few days I've sensed a need to 'do something' in June...
Sadly, I have no money to go on a course or pay to be inspired, so to distract myself from the pain (I finally got Botox in my right arm today - 5 injection marks are throbbing along my arm and inner shoulder), I trawled th'internet for inspiration...
And I've decided to try and do a Collage a Day (gulp!)
So I found an empty journal (yes, I always have a stash!) and got to it...
On the left is an image from Country Living (LOVE that magazine!) and THE perfect quote clipped from who-knows-where...
On the right is a small painting I bought from

Francesca Burras

years ago called 'The Women' (inspired by T.S. Eliot, "the women come and go speaking of Michelangelo"),but which I never got around to framing! And other words clipped from magazine adverts...
I didn't realize I'd used so many shiny papers, which sadly don't photograph well, but you get the idea :)
'Here's Hoping' this daily project will indeed help me find 'Perfect Peace' as I 'begin each day as if it were on purpose, Infused with Imagination' - such fun!!
_________________________________________________________________________
_________________________________________________________________________________
30 Days of Harvest
Day 1
As there's a lull in my Sage/Priestess Training, I decided to sign up for

Joanna

Powell Colbert's 30 Days of Harvest (there's a wee badge on my sidebar if you want to learn more).
Today's email included this gorgeous,
gorgeous
image by
Wendy Andrew
called 'Harvest Night Dreaming'
Joanna talks about 'root energy'
when everything will soon be outwardly dying. The plants have been harvested, and what is left begins to wither and die back into the ground. As the fruit dies and rots, seeds are released to rest beneath the soil until next spring. The energy that saw the plant through the summer and harvest season will soon be stored in the root.
And suggests we take a photo on the theme - The coming of Autumn...
photo taken on a scoot just over a week ago before the battery died... :(
There is also a journal prompt
How are you preparing for Autumn and the dark time of the year?
I'm gathering scented candles and books and journal supplies (taking advantage of all the Back to School deals in the shops :) ) I'm starting to create what could be termed a 'Book of Shadows', but which I prefer to call a 'Book of Every Day Magick'...
Collecting information on the Elements (Earth, Fire, Air, Water - and Spirit!), the Moon, Celtic Tree Lore, the Chakras - all things I find interesting and on which I've making notes for the past couple of years. I'm definitely in a gathering/studying/learning mode :)
I plan to post every day on this 30-day 'Sacred Pause', as Joanna calls it - will you join me?
_________________________________________________________________________
Day 2
Short and sweet today...
The words are included in today's

email

, so I added them to a photo taken last week.
Conkers and acorns symbolize Autumn for me...
Also sharing with

Becca

over at Nurturing Thursday :)
_________________________________________________________________________
Day 3
I'm a little later posting today having spent the morning on a scoot into town taking photos of the Autumn trees along the way... (Yes, my trusty steed is back on the road powered by new [expensive!!] batteries.)
In today's email,

Joanna

quotes a favourite poem, I've posted before - Mary Oliver's 'Wild Geese'. But like every great poem, you find something new every time you read it...
You do not have to be good.
You do not have to walk on your knees
for a hundred miles through the desert repenting.
You only have to let the soft animal of your body love what it loves.
Tell me about despair, yours, and I will tell you mine.
Meanwhile the world goes on.
Meanwhile the sun and the clear pebbles of the rain
are moving across the landscapes,
over the prairies and the deep trees,
the mountains and the rivers.
Meanwhile the wild geese, high in the clean blue air,
Whoever you are, no matter how lonely,
the world offers itself to your imagination,
calls to you like the wild geese, harsh and exciting —
over and over announcing your place
in the family of things.
Joanna focuses on the last line and suggests taking a photo on the theme My place in the family of things. This is my favourite photo from this morning's expedition, and it inspired a wee poem :)
My place is beneath the tall, elegant Ash
Gazing up at her heavy bunch of keys
My place is in dappled sunlight
Catching the shimmering creation
Of the one creature I struggle
_________________________________________________________________________________
Day 5
Today's email features one of my favourite images of Joanna's

Gaian Tarot

- the Three of Earth
Three generation of women making potions and tinctures in the kitchen, 'building the house of the Goddess'.
The only time I've experienced this kind of communal activity is within the Anglican Church - here in the UK, in the US and in Africa - everyone sharing their skills and wisdom for a common goal. I deeply miss this kind of community, and it's what I've been searching for ever since I left the Church over a decade ago.
I've had glimpses of it online, but sadly not a sniff in the real world...
Where, oh where are the flesh-and-blood, goddess-loving people?? Are they all serving, practising, 'making medicine' in solitude??
Photo prompt: Communal creativity
Our exuberant fuschia bush - a declaration of
communal
Beauty
_________________________________________________________________________________
Photo prompt:
Honouring the harvest
Afraid I can't do more than post a picture today.
Had my Botox injections this morning (to paralyze the painful, high-tone muscles in my right arm), and I'm feeling rough...
_________________________________________________________________________
Day 7
Today's email included this beauty called 'Mabon Mother Hug' by

Wendy Andrew

. To me it includes everything that means Autumn to me... falling golden leaves, acorns and oak leaves, woodland animals, all wrapped up in a big sweater and a warm hug - just gorgeous :)
And this wonderful Mabon song - what a gift!
Thank you to all the artists who add to the world's abundant beauty, you all make Life the rich unfolding it is....
Feeling VERY blessed!
_________________________________________________________________________
Day 8 - Merry Mabon
I know not everyone 'recognizes' the name 'Mabon' (it's relatively new, apparently) for Autumn Equinox, but I like it, and it's less of a mouthful for someone who still struggles with certain word and sound combinations!
So, Merry Mabon everyone!
I couldn't wait to change the Goddess Wheel on my altar this morning... Here's what she has to say (printed on the back on her image):
I am your rock of strength.
Rest at this space of balance, where day and night
are equal and prepare to journey with me
I am the setting sun, I am the waning moon.
as they fall into me, I am Earth.
I am your rock of strength.
Then, I burnt a special Mabon incense made with rose petals and juniper berries...
... and anointed my precious objects with

Mabon oil

...
My wee

Forest Guardian

was grateful (she does dry out over the weeks between festivals!) She now smells divine :)
And look what a gift I found nestling on the altar... A wee cluster of faeries :)
As I smudged and cleansed the altar, they danced and alighted here, snug and safe at the back - protected by my Mary stone, my gorgeous Willow Spirit

antler

and my

Red Tent Mama

:)
Such Beauty abounds at this time of year... the turning leaves, the ripe crops, the plump fruit... And last night this...
Thank you, thank you, thank you!
_________________________________________________________________________
Day 9 - Nurturing Thursday
A shaft of Autumn sunlight hit my altar this morning, making my Selenite candle-holder shimmer and shine. Immediately t
his saying came to mind...
I haven't edited the photo at all, just added the words.
Sharing with

Becca

and Co...
_________________________________________________________________________
Day 10
Today's inspiration is a FAVOURITE Rumi quote:
Be what we do
There are hundreds of ways to kneel and kiss the Earth.
And the photo prompt is Kissing the Earth
These photos are of the various rose bushes outside the front of the house. I gingerly got myself out the front door yesterday to take them (the front doorstep is BIG and hubby usually helps me, but he was away).
Thankfully I got out and back in safely without 'kissing the Earth' :D
And in response to the Rumi quote - the Beauty I love and adore doing is being a Mama, and 20 years ago today we were blessed by the arrival of THE most gorgeous, healthy baby boy...
This pic was taken last year - a family favourite of our beautiful kids :)
_________________________________________________________________________
Day 11
Today's email had this image - Six of Earth from Joanna's

Gaian Tarot

. I just love the market seller in her bucket hat!!
The photo prompt is Soulful Shopping.
Sadly, our wee town doesn't have a Farmer's Market, and too many of the High Street shops are empty...
But I do endeavour to make most of my purchasing soul-filled - I've been a user of

Etsy

for 8 years, and our home is FULL of wonderful creations made and bought soulfully!
Here's a very small selection...
'Moon Goddess' and 'Beneath the Waves' both by ultra-talented

Ruth Archer
This beauty by

Emma Hartley

sits on a small easel on my desk :)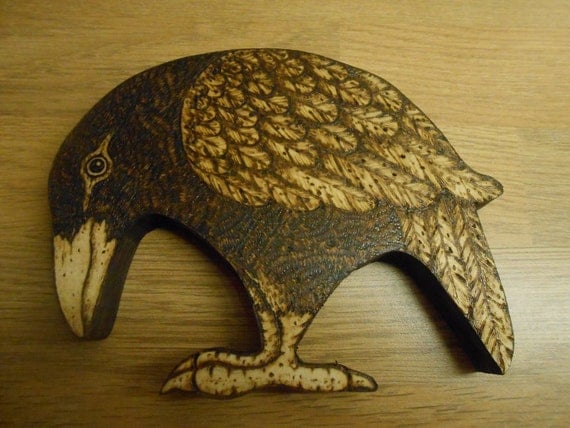 And handsome Mr Crow made by

Jenny Steer

oversees my bookshelves
As I say on my Etsy profile
No matter how much money we have, we can all support artists and craftspeople, for they make the world a better place with their beautiful creations!
Indeed they do!
_________________________________________________________________________________
Day 14
I have a number of days to catch up on my journal after being unwell, but I wanted to at least get back on track with the photo prompts...

Today's is The Riches of Solitude
I adore being alone - it's how I recharge - and I'm never bored as I always have books, music, art to entertain me... the option of doing stuff for a while, and then just be-ing at other times :)
But sadly my mother never knew 'the riches of solitude' - she hated it, feared it, she was never happy or content in her own company...
This is one of my favourite photos of her taken in the early 1960s when she was still a teenager. Look at how elegant and poised she looks, but also a little sad...
I find this image so poignant, as I know how she struggled with mental illness throughout her life... Before she was 20, she was a wife and a mother, and I sense she just didn't have the resources (inner or outer) to explore solitude... to explore herself, and her own rich wisdom...
She was a difficult and demanding person, and I grieve for my lost childhood, but I look at this photo and I grieve also for the lost potential in this young woman... the lost riches of her aloneness...
________________________________________________________________________________
Day 15
Today's email inspiration is another beautiful prayer by Caitlin Matthews:
I take the cloak of covering
from the fruits of nine trees:
Nine fruits and nine flavours
May the blessing of the Renewer of Hearts
accompany me this Autumn day.
And the photo prompt is Savouring Autumn Fruits - a neighbour's 'melody of pear' hanging invitingly over the fence...
_________________________________________________________________________
Day 17
Honouring the Lady of Compassion... What a poem for inspiration!
The Healing Time
those hieroglyphs of pain
carved into my skin, my bones,
Pesha Joyce Gertler
And the photo prompt is Scars...
On a day when I again feel unwell, unsafe, unsure... I make a collage
_________________________________________________________________________________
Day 20
I've missed a couple of days - enjoying a busy weekend celebrating hubby's birthday - but I'll catch up in my journal...
Today's focus is to honour
the Harvest Queen as the Taker of Seeds, which I'm taking to mean Autumn is the time of change... the movement from life to death... (but always with the hope of rebirth!)
One of the reasons I love Autumn is that Nature puts on SUCH a beautiful display as plants and trees 'go to seed'... The journal prompt asks
How do you make peace with knowing that no beautiful thing lasts?
And my immediate response
is that I find Beauty in the changing, in the dying, in the 'going to seed'!
How can one NOT find Beauty in this changing, dying bush?? Arguably it's more beautiful now than when it was all its lush, Summer greenness!
_________________________________________________________________________
Days 21 and 22
I've been without email for a couple of days, and it's been SO frustrating...
But now it's back, I'm making the most of it with two posts in one :)
Day 21
We honour the Harvest Queen as She Who Dreams with this lovely prayer:
Into the Womb of Night I am travelling,
into the Cavern of the Dark I am coming;
May the blessing of deep sleep attend me,
may the blessing of good dreams accompany me.
As the nights lengthen, remembering the Light is vital...
A favourite painting on a deep box canvas by
Tara Leaver
watches over me from the top of my art cupboard :)
Day 22
We honour the Harvest Queen today as the Keeper of the Mysteries of Seed and Soul, dear Demeter, mother of Persephone.
I made a collage in her honour... The Yogi tea label reads:
Love what is ahead by loving what has come before
Delving the darkness of loss by holding the memory of light and love...
_________________________________________________________________________
Days 23 and 24
Yesterday was a blah day - spent the whole morning at appointments (diabetic review and pedicure), and the afternoon napping... Then went to bed at 9pm...
We don't change our clocks back to GMT for a couple of weeks, but I'm already descending into hibernation mode... So, once again one post for two days :)
Day 23
The inspiration was Mary Oliver's poem '
Song of Autumn'
don't you imagine the leaves think how
comfortable it will be to touch
the earth instead of the
nothingness of air and the endless
freshets of wind? And don't you think
the trees themselves, especially those with mossy,
warm caves, begin to think
of the birds that will come — six, a dozen — to sleep
inside their bodies? And don't you hear
the goldenrod whispering goodbye,
the everlasting being crowned with the first
tuffets of snow? The pond
vanishes, and the white field over which
the fox runs so quickly brings out
its blue shadows. And the wind pumps its
bellows. And at evening especially,
the piled firewood shifts a little,
longing to be on its way.
and the photo prompt was Deepening
Today's email included this lovely image from Joanna's

Gaian Tarot

'Elder of Earth'
and the call to '
honour the Harvest Queen today as She Who Tends the Web of Life'.
I am mindful that my life is somewhat bereft of elders - especially women elders. My mother died aged 55. my mother-in-law lives over the States, and The Elder, whose photo resides on my altar never knew old age, as she died of breast cancer aged 32, so I never new my grandmother Florence Esther.
But as we count down to Samhain at the end of the month, and as the days and plants age and die around us, I am mindful of what a privilege it is to live to old age, to actually be an Elder, to see one's children and grandchildren grow and flourish. And once again, those who are no longer with us are ever-present in the Web of Life, as the perceived veils between past, present and future grow thin...
_________________________________________________________________________________
Day 25
Ah, such inspiration in today's email... A poem by a FAVOURITE poet, David Whyte :)
Sweet Darkness
When your eyes are tired the world is tired also.
When your vision has gone
no part of the world can find you.
Time to go into the dark where the night has eyes to recognize its own.
There you can be sure you are not beyond love.
The dark will be your womb tonight.
The night will give you a horizon further than you can see.
You must learn one thing:
the world was made to be free in.
Give up all the other worlds
except the one to which you belong.
Sometimes it takes darkness and the sweet confinement of your aloneness
that does not bring you alive
LOVE every word of this!!
Photo prompt: Sweet darkness
Love our fireplace at this time of year :)
_________________________________________________________________________
Day 28
As we sit under a dark New Moon, we honour the Harvest Queen as Lady of Darkness...
To know the dark, go dark. Go without sight,
And find that the dark, too, blooms and sings.
I am a child of the gloaming... My favourite times of the day are always dawn and dusk, whatever the Season. And one of the greatest gifts is to see the dawn of a new day, when the dark literally sings, as more and more birds lift their voices as they see the sun rise over the horizon...
Photo prompt: The Singing Dark
________________________________________________
Day 29
Today's post is short and sweet as we honour the Harvest Queen as She Who is Crowned with Leaves of Gold...

Photo Prompt: Golden leaves
________________________________________________
Day 30
Today is the last day of this seasonal sacred pause...
I've enjoyed it - making time to notice and record the sheer beauty of this, my favourite, Season :)
We honour the Harvest Queen today as She Who Gathers and Releases...

Photo Prompt: Gathering and releasing
Also sharing with

Becca

on Nurturing Thursday
_________________________________________________________________________
Very Virginia
First published 17 February 2015 on my 'Very Virginia' blog
I've loved Virginia Woolf ever since I read To the Lighthouse and Mrs Dalloway as a teenager. Even then I realized her writing was unusual, with its focus on thoughts, feelings and inner-worlds. I so wished she was on my A level syllabus instead of the usual Dickens and Austen *sigh*
And now 35 years later, I've decided to start this blog dedicated to this extraordinary woman, her writing and the people in her life.
Just today, I joined the Virginia Woolf Society of Great Britain (there's a button the sidebar).
Part of me is thinking, 'Surely, there's more than enough on the internet about Virginia already. Who wants to read your two penneth?' And the answer is, 'Maybe no one.' And the truth is, they don't need to...
I am writing this purely for myself, my own interest, to work out why I'm fascinated by this woman and her life... If others do read it, and pitch in, I'll be thrilled - I do so enjoy good conversation!
_________________________________________________________________________
First published 18 February 2015
Last September, I came upon
this series
, and lo and behold, one of my all-time favourite books was being featured...
Presented by Alexandra Harris (a favourite author herself - check out her

debut

book), I was treated to a half-hour delve into the background of this novel. I saw Virginia's writing shed at

Monk's House

, saw her handbound original manuscripts, with her crossings-out and notes in the margins, catching glimpses of a writer's mind at work.
It was fascinating, and reminded me why I so adore this novel, written and set in the early 1920s. I immediately grabbed my adored

Folio Society

copy, and began to read...
Mrs Dalloway said she would buy the flowers herself...
One of my favourite descriptions of this amazing book is by Michael Cunningham in the Introduction to this particular edition:
In Mrs Dalloway, Woolf is riffing... She's testing not only her powers but the limits of the novel itself. We can almost hear her thinking on the page... Mrs Dalloway is like an improvisatory jazz solo, played by a relatively new musician, possessed of astonishing powers.
It ravels and unravels. It has loose ends. It coheres, but in the disorderly way that life itself coheres. Like life itself, it has patterns and themes, but is not exactly about anything singular or easily identifiable. It is about itself.
(p. ix)
Those who like novels to be action-packed page-turners may not enjoy this book, but those who like a more pensive, leisurely approach may... I find it gripping, for it tackles the BIG questions of life and death obliquely, rather than head-on. Within the hours of a single day, in the lives of individuals who never meet each other, we encounter the disparate thoughts, feelings, memories and fears of Clarissa Dalloway and Septimus Warren Smith, and they become real to us, a part of us.
As Michael Cunningham perceptively says in the Introduction,
With Mrs Dalloway, Woolf argues that there are no insignificant lives, only insufficient ways of looking at them
(p. xii)
_________________________________________________________________________
First published 20 February 2015
As I revisit Mrs Woolf's A Writer's Diary in the beautiful Persephone Books

edition

, I am reminded why I've always kept a diary, a journal...
... in which to spill thoughts, to rant, to relive life's experiences...
Clearly, my writing is not as remotely significant as VW's, not to anyone but me at least, but it IS important!!
After my stroke (almost 8 years ago), I couldn't read for almost a year, and I am still learning to write left-handed (I was right-handed, but my right side is now paralyzed). I now have a deep appreciation of why reading and writing are so difficult/demanding for children - so many parts of the brain are required to fire simultaneously!!
The first two years after the stroke were THE hardest! While I couldn't read or write, I was lost... me, Claire, was nowhere... (I was writing in my journal as the stroke happened - the pen falling from my hand was the first clue!)
But slowly, my coordination has improved, and with it my handwriting...
I'm still not up to writing much, or every day, but for the past few months I've been in a group of women, led by

Angel Sullivan

, and over a year and a day (from 23 October 2014 to 24 October 2015) we are creating a journal, a Book of Me.
Here are some of my pages...
I seriously doubt anyone in the future will look at this as a literary masterpiece(!), but that isn't the point. I doubt VW expected others to read - and critique(!) - her diaries as she wrote them. Here's her entry from almost 90 years ago to the day:
Monday, February 21st [1927]
Why not invent a new kind of play; as for instance:
I think it must be something on this line - though I can't now see what. Away from facts; free; yet concentrated; prose yet poetry; a novel and a play.
Was this little entry in her diary the very first glimmerings of an idea that over a decade later became Between the Acts, her final novel, published after her death in 1941?
I like to think so :)
And who knows, in among my diary ramblings there may be a kernel of an idea that grows into a sustained thought, a developed plan, even a final published piece one day...
I can dream!
_________________________________________________________________________
First published 26 February 2015
This week in the mail, I received this wonderful book
AND my membership to the Letter Writers Alliance (button on the sidebar takes you to their website). Yes, that really is a sew-on badge taped on the card - reminds me of the Girl Guides :-)
As my left-handed writing improves, I'm keen to return to a favourite pastime - writing letters!
I've had pen-pals since childhood (I wrote to a French girl called Genevieve for several years), and in college I wrote to prisoners through a church scheme. During my year in Kenya (1987-88), receiving mail was the highlight of everyone's week, students and teachers alike.
In our increasingly virtual world, I believe REAL mail has a vital part to play... to really connect people, in a way instant messaging just can't.
As I wrote in my journal recently, I played for hours as a child running a Post Office (do you remember those sets with the little alphabet stamps??), then at being a secretary writing very important memos on my trusty Petite typewriter.
(mine was very similar to this)

But nothing can beat a handwritten letter or card, especially if it's come from overseas with its interesting stamp...
Of course, Virginia was a fine Woman of Letters, but even she scrawled notes and dashed-off missives. Do you ever wonder how biographers in the future will do their work as our generation leaves so little hard evidence behind? A friend is writing a book on her grandparents based on letters found in an attic - will that be only a romantic notion in the future?
I ponder these things as I journal, read Virginia's diary entries and her letters...
And should you want to exchange cards/letters, do get in touch via the Contact Form in the sidebar. Together we can create small treasures for those who come after us to discover and wonder about our lives...
_________________________________________________________________________
First published 6 March 2015
Today I received something I've always wanted...
I bought it on ebay, it's been refurbirshed but the lock doesn't work, which kept the cost down...
It came with the pen tray and the ink well, but I already had a dip pen.
There's plenty of room to store stationery under the writing boards, and I couldn't wait to play...
My first left-handed writing with a dip pen... As I say, 'It's just beautiful! Will I ever want to stop?'
Such a happy, happy girl!
_________________________________________________________________________
First published 14 March 2015
One of my favourite sayings as a child was
Strangers are friends you haven't met yet.
It's what my Grandad would say whenever I shared my anxiety of meeting new kids - at school, at Brownies, on holiday...
Of course, I assumed he was the creator of the saying... only to discover at college it was W.B. Yeats, and the actual quote was
There are no strangers here; only
friends you haven't
yet
met.
It's one of the reasons I loved having penpals as a kid and why I sponsored a child in Africa throughout my late teens - to make contact with strangers in other lands, so they were no longer strangers :)
Of course Virginia Woolf had many deep and lasting friendships. This is one of my favourite quotes
And we're lucky enough to read so many of the letters she wrote to and received from those friends.
As I wrote in this

post

, I love writing and receiving real mail! In this digital age, nothing lifts the spirits quite like hearing the letterbox jangle and seeing a handwritten envelope lying on the hallway mat :)
And yesterday, I received such a gift all the way from Australia, from new friend Robyn. We're both members of a Facebook group called

Singing Over the Bones

hosted by

Sharon Blackie

.
And look what was in said envelope...
... a beautiful piece of real art - wow!
The kindness and generosity of 'strangers' never ceases to amaze me - thank you, Robyn!!
I love how the internet connects people and makes the world feel like a global village, but it's the real, tangible objects that make those connections stronger and more vital. It's the fact that someone thought of you, wrote a letter/card/made some art(!), went to the Post Office and mailed it, just so you could know they were thinking of you...
It's a beautiful thing, to be sure, and something to be deeply treasured!
_________________________________________________________________________
First published 18 March 2015
I've just discovered this!
_________________________________________________________________________
First published 23 March 2015
New stationery, a sunny Sunday afternoon, and THE most beautiful new ink...
It's J.

Herbin's

anniversary ink - can you believe they've been in business since 1670?? - stormy grey with flecks of gold... oh my...
Apparently Virginia used to write with purple ink. I also bought samples of Herbin's scented inks and the purple one smells of violets - just like the parma violet

sweets

:) I'm guessing Virginia's wasn't scented...
I must say, I am soooo enjoying writing with a dip pen - I love to hear the scratchy nib, to see the page filling up word by word, line by line, the pausing to dip the nib, and the sight of inky fingers at the end of the day.
Writing a letter is an ordinary task, but it can become such a sacred act when performed slowly and mindfully...
If you'd like a handwritten letter, send a note in the contact form and I'll get one in the post... And it may even smell of violets! Or roses, or oranges, or...
_________________________________________________________________________
First published 16 April 2015
To celebrate my ??st birthday in a couple of weeks, I've offering this beautiful, handmade, hardback A5 journal from

Not Only Paper

.
It has lined pages and lovely extras...
Just leave a comment below or on my

FB page

(as I know not everyone subscribes to Blogger).
I will draw the winner on Thursday 30 April 2015 at 9am (BST) and I'll post it anywhere in the world the Post Office delivers :)
So, if you like Mrs Woolf, or know someone who does, do enter and help me celebrate my birthday!!
GOOD LUCK
_________________________________________________________________________________
First published 30 April 2015
I put the names of all those who commented here and on my Facebook page on bits of paper and put them in a lucky bowl, swished them around, closed my eyes, and drew out a name...
Congratulations!! Your new journal will be in post very soon :)
And thank you to all those who entered!!
_______________________________________________