I just LOVE today's card, which is so funny as I hate the word 'Judgement'!
To me, this card speaks volumes about spiritual awakening, of rising up (the traditional meaning of the card as shown by the Rider-Waite version)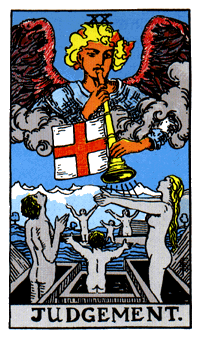 There's real freedom and movement in the

Silver Witchcraft Tarot

version - both in the spiritual realm and the physical as the wee bird flies off as if released from a cage.
I also love that only 6 of the 7 chakra points are shown - to emphasize the awakening is just the beginning, there's still more to do, and be, to reach enlightenment...
An important message for me as I plod on with

The Novel

... Over 35,000 words written so far, but as the end of November looms, the finish line of 50,000 words seems even further away...
But as they say, 'You've come too far too give up now' - Ain't that the truth?!